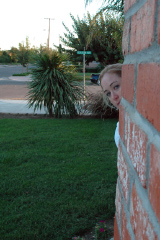 Hi all,
Well we are still in escrow and LOVING it! Soon we will release the inspection contingency. Andrew and I already made a trip to Kelly Moore paints and bought a quart of paint for our new house. Our first task is to paint poster boards and hang them around the house to test the colors out. We can't wait to get started on fixing up the place and making it our new home.
Here is a floor plan of our "soon to be" house:
-click on it for a bigger picture-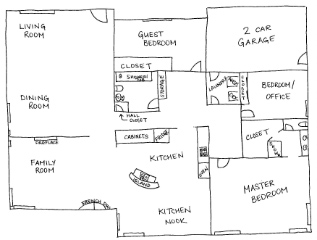 My Uncle Richard and Auntie Constance came to visit last weekend. Andrew and I wanted their expertise (Uncle=Architect, Auntie=Real Estate Agent) and opinions on the Pippo Avenue house we were looking at. The house was nice, but the previous owners added on a great room and the craftsmanship was not very good.
We enjoyed critiquing the house and finished the night off with a delicious dinner at an Italian restaurant in Brentwood. Richard and Constance traveled to and fro via motorcycle from Santa Rosa. We'll see if they come by car next time! Thanks again for a great evening of fun. Here is a photo gallery of the Pippo house: