---
UPDATE 9/13/04
Our offer was rejected on the house. One of the other offers included 50% down payment, and we couldn't compete with our 100% financing. We'll keep you posted as we keep looking for more homes.
---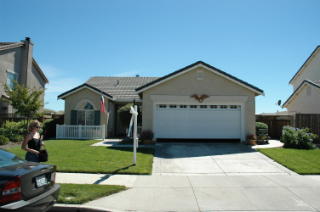 We found a great home in Brentwood today, when we went around again with our Real Estate Agent. In fact, it was so great, we decided to make an offer on it.
The basics:
Built in 1999
3 bdr, 2 bath
Central heat and air
Built-in 5.1 surround sound
Fans in every room
Great master bathroom
1490 sqft
1 story
.14 acre lot
View a photo gallery of the house.
Unlike the other homes that we've looked at, this one isn't a fixer-upper. In fact, there isn't much we could do to it to fix it up, its all done! It has a great (covered!) patio in the back yard, with a good floor plan in the house. It flows nicely.
Also, its in a nice neighborhood. The only two concerns we had about it were that it backs up to a street that is pretty busy during rush hour, and its next to a railroad. The extention of eBart into Brentwood would run on the railroad tracks as seen in the second picture in the gallery linked above. About 3 houses from us. The plus of that is that it probably wouldn't happen for 5-10 years, and even if it does we don't think that it would drop the property values below what we'd make in the 5 years before we leave anyway.
So think good thoughts, and we'll keep you posted!
Update!
We've put together a small floorplan of the home to help you see its layout a little bit better. You can see it right below this text. Click on it to see a larger version.