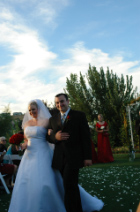 Andrew and I were lucky guests at my past roomate's wedding. Bobby and I lived together my senior year of college at Davis. We had a blast and I often reminesce about the crazy times we had together. He put up with my cockatiel Kiwi and an assortment of small creatures that he would find loose in the apartment. Bobby married his girlfriend of 4 years, Brittany Priest.
They will be starting a new family where Bobby will be a proud step-father to Brittany's five year old son Chandler. We wish them the best of luck and hope they live happily ever after.
The wedding was held at Whitney Oaks Golf Club in Rocklin, CA.
The fun part about the wedding was that one of my father's great friends officiated the ceremony. Bobby works in the Sacramento Courthouse where my father's friend, Judge Gunther, is a Superior Court Judge. He did an excellent job and I enjoyed seeing him and introducing him to Andrew.
Congrats to Bobby and Brittany. Cheers!