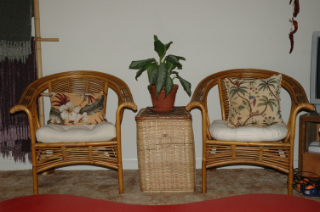 What would a day be like if Shannon didn't find a deal on craigslist.org that warranted us getting more furniture? Boring, thats what. Also, unlikely as of late ;-)
Above you can see our two new rattan chairs, they match our current set of rattan furniture nicely, and will go in our living room with the rest of the rattan furniture when we move in.
Below, you can see that its starting to get a little crowded in our current residence.
Also, not to put it so far down here as to not be read, but we released all contingencies on the home today. The loan was approved by Golden 1, and now we just have to sign the rest of the paperwork, and we might even finish escrow early if everything goes well.
We'll keep you posted, of course :)