Out with the old Shannon: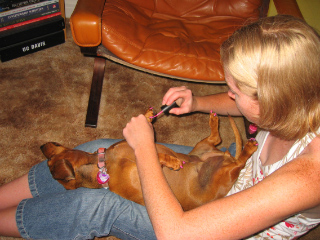 And in with the new!
LuLu and I had our first dog training lesson in our home today. The trainer is great. She and I see eye-to-eye on dog training techniques. LuLu did great and really enjoyed getting lots of snacks. We are starting off by teaching Lu how to "calm" so she can relax and not be so rigid. Once we get her calm, we will work on "sit-stay" (she already knows how to sit so well) and "down."
It is official, I have ruined Teenie. The trainer banned me from carrying my dogs around like babies. She says I have taught Teenie dependence and we are going to work on building their independence. Okay, so maybe human children sound more fun now. At least you get to carry them around for a couple of years! I now have to give all of my loving attention sitting down or on the floor. Maybe I will sweep more often this way.
I will keep you posted on our progress.
-S-