Aden's 2nd birthday happens today! Although the terrible two's seemed to have popped up around 18 months, Aden is in another angelic stage where he is cute as can be. I guess I have a whole year to experience the wonderful tug-of-war between a two year old and their independence.
Aden's party was a blast and he loved all of the attention. Here are some pics: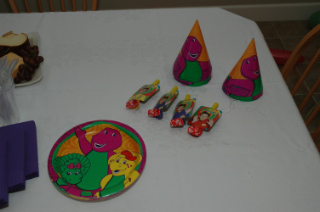 The party's themes were The Wiggles and Barney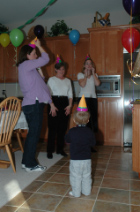 From left to right (an 8 month pregnant Andrea (Christy's best friend), Aden's Grandmother, myself, and Aden baby)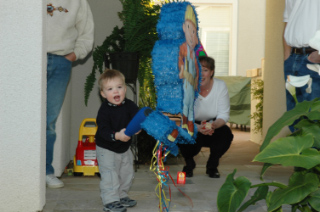 Pinata time! See those raisins fly out.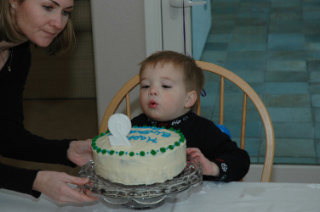 Time for cake. Homemade, yummy, and peanut free.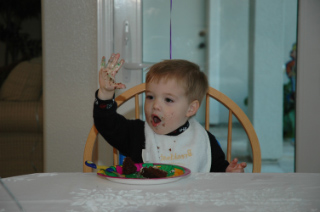 A man who likes frosting, my kind of guy!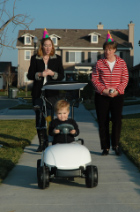 Aden's Grandmother (Gra-Ra) and I take Aden around the block in his new golf cart from Christmas.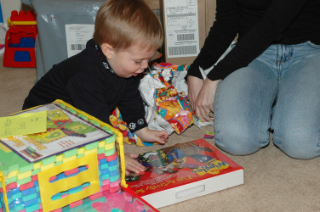 Presents.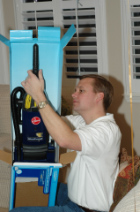 Aden loves to vaccum so he got his own. Yesterday he told me, "Aden clean, Nanny go play." Wow, role reversal. This could be fun.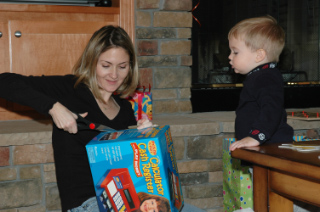 I bought Aden a solar powered cash register. Pretend play here we come. No batteries required either.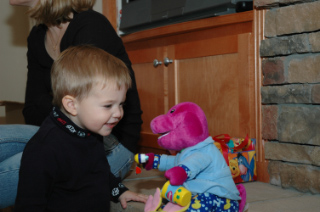 Last but not least, Brush Your Teeth Barney.